Wildlife Film News (latest Natural History Film news from our acclaimed newsletter)
Become a member today... For a Freelancer join here, for an Organisation join here! :)
See our 'Features' and 'Interviews' pages for stories from around the wildlife, conservation and natural history film-making world! Got Kit to sell? Add your items here! (NB. Members post for free!) Looking for a work or got something to offer... Visit our Jobs Page.
New Wildeye Course Date in 2018!!

Our longest running course is back next Spring: Introduction to Wildlife Film-making :: 6-8 April

One of of our most popular wildlife film-making courses, the introductory weekend offers you your first insight into the world of wildlife film-making. From pre-production to delivery, we'll guide you through the many stages of the process from your first idea, research, scripting, travel, filming, editing, delivering as well as importantly selling and distributing your completed film.

This course is broken down into bite-sized modules presented over two days including time spent filming at Pensthorpe, former home of BBC Springwatch. The wildlife film-making weekend is suitable for anyone including beginners, hobbyists, keen enthusiasts, those looking to undertake wildlife film-making degrees or apprenticeships all the way through to camera operators looking to diversify into wildlife film-making. As well as educating, inspiring and providing practical hands on experience its a great addition to any CV. Visit/book: www.wildeye.co.uk/introduction-to-wildlife-film-making

Check out the homepage for up-to-date availability: www.wildeye.co.uk

Watch: Chris Packham: Asperger's and Me

For most of his life, broadcaster and naturalist Chris Packham didn't tell anyone about the one thing that in many ways has defined his entire existence. Chris is autistic - he has Asperger's Syndrome, which means he struggles in social situations, has difficulty with human relationships and is, by his own admission, 'a little bit weird'. But what if there was a way of taking away these autistic traits? Would Chris ever choose to be 'normal'?

In this film, Chris invites us inside his autistic world to try to show what it is really like being him. He lives alone in the woods with his 'best friend' Scratchy the dog, but he also has a long-term partner, Charlotte, who discusses the problems Asperger's creates in their relationship - she describes Chris as being sometimes 'like an alien'. Chris experiences the world in a very different way, with heightened senses that at times are overwhelming, and a mind that is constant bouncing from one subject to the next.

Growing up at a time when little was known about autism, Chris wasn't diagnosed with Asperger's until he was in his forties. With scientific advances offering new possibilities to treat his condition, Chris travels to America to witness radical therapies that appear to offer the possibility of entirely eradicating problematic autistic traits, but he also meets those who are challenging the idea that autistic people need to change in order to fit into society. Confronting this deeply personal subject with brutal honesty, and reflecting on the devastating struggles of his adolescence, Chris explores the question of whether he would ever want to be cured himself or whether, ultimately, Asperger's has helped make him who he is today.

Visit: bbc.co.uk/programmes/b09b1zbb Watch: bbc.co.uk/iplayer

Read Chris's response to the positive feedback that he recieved: Asperger's And Me – Thank you

Fingers in the Sparkle Jar: A Memoir by Chris Packham

A beautifully told, deeply personal growing-up memoir from the BBC presenter about life, death, love and nature.

Every minute was magical, every single thing it did was fascinating and everything it didn't do was equally wondrous, and to be sat there, with a Kestrel, a real live Kestrel, my own real live Kestrel on my wrist! I felt like I'd climbed through a hole in heaven's fence.

An introverted, unusual young boy, isolated by his obsessions and a loner at school, Chris Packham only felt happy in the fields and woods around his suburban home. But when he stole a young Kestrel from its nest, he was about to embark on a friendship that would teach him what it meant to love, and that would change him forever. In his rich, lyrical and emotionally exposing memoir, Chris brings to life his childhood in the 70s, from his bedroom bursting with fox skulls, birds' eggs and sweaty jam jars, to his feral adventures. But pervading his story is the search for freedom, meaning and acceptance in a world that didn't understand him.

Beautifully wrought, this coming-of-age memoir will be unlike any you've ever read.

'Fingers in the Sparkle Jar is like nothing else I know – a flickering vat of life itself. A brilliant and remarkable book.' Robert MacFarlane

We think this book is essential reading for all interested in Chris, his career and the natural world but also anyone interested in the trials of life. Can't recommend this book enough.

Published by Ebury Press, available at Amazon.com & Amazon.co.uk.

Dates announced for Wildscreen Festival 2018 as Monday 15th to Friday 19th October!

World's most prestigious wildlife TV and film awards opens for entries.

Diary dates:
Wednesday 21 March 2018 - Official submission deadline for entries to Wildscreen Panda Awards 2018
July 2018 - Wildscreen Panda Award nominations announced
Monday 15 to Friday 19 October 2018 - Wildscreen Festival – the world's biggest celebration of natural world storytelling – and the Panda Awards ceremony, takes place in Bristol, UK

The 'Green Oscars' of the international wildlife film and TV industry, the Wildscreen Panda Awards opens for entries today (Wednesday 1 November).

Wildlife and environmental filmmakers from around the world can submit their productions to be in with a chance of winning the most coveted awards in the genre when the world's biggest festival of natural world storytelling returns to Bristol, UK, from the 15-19 October 2018. Launching the Festival's latest call for entries, Lucie Muir, CEO of the charity behind the biennial event, said: "The Panda Awards have sat at the heart of the Wildscreen Festival since they were presented at the first Festival back in 1982 and they remain the highest honour in the international wildlife film and TV industry.

And we're thrilled to launch our 2018 competition on the same day when our home city, Bristol, has been announced as a UNESCO City of Film. A staggering 40 percent of all natural history productions come through Bristol and today's announcement really cements our global reputation as a world-leading centre for film."

Entries must be submitted by Wednesday 21 March 2018, via the online submission portal on the Wildscreen website, available at: www.wildscreen.org/panda-awards

For the first time this year, the charity is offering an earlybird rate for productions entered before 31 December 2017.

The Wildscreen Festival is a not-for-profit initiative by the UK-based charity Wildscreen, which is also behind Arkive, a free-to-access online encyclopaedia about the natural world, and Wildscreen Exchange, a global hub giving conservation organisations access to imagery, footage and expertise which helps them to tell the most pertinent conservation stories of our time.

Check out the Wildscreen Festival 2018 Trailer

Landmark conference gives hope for a better future for animals, people and the planet.
CIWF CEO Philip Lymbery

Last week I was privileged to open our international Extinction and Livestock conference which explored the devastating impact of livestock production on animals, people and the planet and the need for a global move away from intensive farming. Over 500 experts, campaigners, policy-makers and business leaders from around the world attended the event, organised by Compassion in World Farming and WWF-UK. Over the two days, renowned speakers took to the stage of the QEII Conference Centre in London to discuss how intensive livestock systems are at the heart of so many problems affecting health, food security, biodiversity, the environment and animal welfare. I'm thrilled to share with you a podcast of the conference featuring just some of the very passionate speakers and delegates.

It features thoughts from Tony Juniper, Senior Advisor to The Prince of Wales's International Sustainability Unit; award-winning author, Professor Carl Safina; and food activist, Professor Raj Patel. Delegates in this episode include Alistair Curry of Population Matters; Rosa Diez Tagarro from Plataforma Loporzano SIN Ganadería Intensiva, a grassroots Spanish organisation; science commentator, Helen Pilcher; Dominic Wormell from the Durrell Wildlife Conservation Trust; David Nally, senior lecturer at Cambridge University; and Bella Crowe from Nourish Scotland. Compassion patron, Joanna Lumley, who kindly hosted the future food networking event also features. In coming weeks, we'll be sharing videos of the speaker presentations and further podcasts on some of the key issues that were explored, so please watch this space! The conference was just the beginning of what will be an international movement working to identify solutions to mend our broken food systems and to ensure that the current climate change targets and the Sustainable Development Goals are achieved in order to save the planet, and secure food for future generations.

If you are interested in finding out more about Extinction and Livestock, please look at some of the extensive media coverage. Here is a small sample of the many headlines the conference generated:

More here: ciwf.org.uk

Visit: www.ciwf.org.uk/DeadZone
Get a copy of Philip Lymbery's book Dead Zone: Where the Wild Things Were here: amzn.to/2fKcIFg

Take a deep breath... Blue Planet II has arrived!

Blue Planet II hit our screens on BBC One at 8pm Sunday 29 October. Episode 1 (of 7) was called One Ocean... "In recent years, our knowledge of life beneath the waves has been transformed. Using cutting-edge technology, One Ocean takes us on a journey from the intense heat of the tropics to our planet's frozen poles to reveal new worlds and extraordinary never-before-seen animal behaviours." Read more and watch on BBCiPlayer here: bbc.co.uk/programmes/p04thmv7

Mobular ray filming: Alfredo Barroso and his wife Liisa Juuti night dive to film the bioluminescent displays of mobular rays.

Episode 2, The Deep, will air at 8pm on BBC One, Sunday 5th November! The deep is perhaps the most hostile environment on earth, at least to us - a world of crushing pressure, brutal cold and utter darkness. We have barely begun to explore it, and yet it is the largest living space on the planet. Scientists already think that there is more life in the deep than anywhere else on earth. This episode takes us on an epic journey into the unknown, a realm that feels almost like science fiction. We discover alien worlds, bizarre creatures and extraordinary new behaviours never seen before. We encounter savage hordes of Humboldt squid hunting lanternfish in the depths and coral gardens flourishing in absolute darkness, with more species of coral to be found in the deep than on shallow tropical reefs. More: bbc.co.uk/programmes/b09f8vtb

28th Abbeville Bird and Nature Festival Call for Entries!

The 28th Bird and Nature Festival will be held from April 21st to 29th, 2018 in Abbeville and in the Bay of Somme – Picardie – FRANCE.

The call for entries opens this week... The competition is open to amateurs and professionals, enter your new film before the 3rd of November 2017! Download the professional category rules here.


Rétro 27ème Festival de l'Oiseau et de la Nature (2017)

Visit: festival-oiseau-nature.com & facebook.com/festivaloiseaunature
How Adrienne Gittus became an award-winning filmmaker!

Discovering the joy of diving

When I first started my journey of self-discovery more than 15 years ago, I was terrified of the ocean and what might be in it to eat me! I lived 20 metres from the beach in a tiny rickety shack in Grand Cayman which contained nothing but a single bed. I forced myself to take the plunge and go snorkeling every day to justify to myself the sacrifice of better living conditions for location. I would last about 5 minutes and then virtually walk on water to get back to the beach when I saw a school of large silvery fish in the murky shallow water, which I later learned were completely harmless and usually shy Tarpon.

The breakthrough came when a friend offered to teach me the mysteries of SCUBA and I reluctantly accepted, telling myself it would be something I might regret for the rest of my life if I didn't at least try. My first few breaths underwater in the swimming pool were a revelation. Within a matter of a few minutes I knew I had found my calling. I have never forgotten my first ever dive on a shallow wreck where I swam with a small turtle in warm crystal clear blue water. I came back from the dive beaming and wanting to share my experience with the whole world. From that point on I single-mindedly pursued that all-consuming desire to develop a diving career. I have been working as a dive professional ever since. That was 2001.

More here: soulwater.devslab.org/a-journey-of-surprises
New film by Bevis Bowden - Raising the Hare

"I thought I could almost see myself in the hare's eye, it was that close."

Featuring two Welsh voices of the landscape: the musician John Cale, who reads Seamus Heaney's translation of The Names of the Hare and the artist Paul Emmanuel who describes an encounter he had with a hare from horseback, the film looks at the entanglement between a hare, a farmer and the livestock that coexist within a field.

The Names of the Hare (written in the late thirteenth century) is attributed to a Shropshire family on the Welsh borders. It describes itself as the 77 names you should say to a hare to avoid bad luck if you happen to come across one.

My observations of hares are often fleeting. I would be lucky to say only one of the 77 names before it bounded away through the grass and ringed the hill.

Filmed in mid Wales, between June and September 2017.

Website: www.bevisbowdenfilms.co.uk
Off The Fence use Canon ME20 for night filming of elephants in Botswana via VMI.tv

The extreme low light Canon ME20F-SH (4m ASA) has been used by Off the Fence Productions on assignment for Vulcan Productions to support the US TV premiere of Naledi: One Little Elephant.

Off The Fence was required to film some follow-up update stories as well as social media segments leading up to the new season of Nature on PBS/WNET this fall. The brief was to film stories about the elephants and other wildlife at Abu Camp in Botswana, as well as capture the daily lives of the elephant handlers who work there. "It's not every day a cameraman has up-close access to a family of elephants 24 hours a day," explains director of photography Lee Jackson. "In our experiences filming Naledi, some of the most dramatic scenes - including a live birth of a baby elephant - were filmed at night on infrared cameras. This time, we wanted something different, something original. We wanted to have our night footage in colour with more depth in our images. After doing some research we found that Canon had launched the ME20 camera and VMI had one of the first rentals available." The main camera used on location in Okavango Delta was the Sony PXW FS7 with the Canon ME20 deployed for low light and night time wildlife with Sony A7S Mk II for gyro shots. "Before heading out, VMI showed one of our directors, Geoff Luck, the camera when it was collected in Bristol," explains Jackson. "They were extremely clued up and informative on the limits of the camera. When it was collected, VMI had it set up in one of their camera booths and quickly showed Geoff what db we should work with and which ones to avoid. We found that certain db worked better than others while 52000db was our limit."

Read more here: vmi.tv/case-studies/article/133



Welcome to our New Full Members from October!

Tamara Groves - an experienced documentary filmmaker from the UK, currently living in Brooklyn, New York. Tamara specializes in international television and film production and she has traveled all over the world. Tamara has an adventurous spirit and a passion for nature and the environment, lifelong interests that led her toward pursuing a career in culture and travel documentary, often interweaving culinary influences in her storytelling. Her most recent work in television includes projects for the BBC, ITV, CNN, Facebook and Nat Geo.

LAHUKA Ltd - Television and filming Location Manager and Fixer services in Indonesia. Experience has shown that expedition organizers, researchers, film and television projects invest considerable time in navigating complex ever-changing bureaucratic corridors. You can maximize time, funds and effort by accessing LAHUKA's expedition research and filming knowledge and local support networks - gained over decades in Indonesia.

Join them, become a full member here: Wildlife-film.com/freelancers or Wildlife-film.com/companies




See the updated ViewFinders listings!

Over thirty years we have had several thousand separate crews from forty countries, resulting in one thousand three hundred and fifty finished films or series - and rising by the day.

Founded by Jean Hartley and the legendary Alan Root, the directors include ornithologist extraordinaire Leon Bennun, photographer, anthropologist and film maker Mia Collis and wildlife manager and guide Sajid Darr.

Operating in Kenya, with associated colleagues in neighbouring countries, we facilitate for natural history and documentary film crews from all over the world.

Our service includes the 'normal' fixer things - obtaining all permits, licences and permissions, as well as arranging temporary importation of equipment, transport, hotel/lodge or private camp accommodation, internal flights and air charters, aerial filming, etc. We go the extra mile - logistical challenges are our speciality - nothing is impossible and we never take 'no' for an answer.

"We are apparently credited with having invented 'fixing' as a profession, though whether that can be verified we are not sure." Jean Hartley

See: wildlife-film.com/-/ViewFinders & visit: viewfindersltd.com
See 'Kit For Sale' for items from members/subscribers!
Welcome to Wildlife-film.com
Since the late 1990s Wildlife-film.com has been the leading source of information for the wildlife filmmaking industry worldwide. For over fifteen years the site has been Google's number one ranking site for 'wildlife film' and related searches. Our site is viewed in over 175 countries. Our newsletter, Wildlife Film News, is read every month by thousands of people involved in wildlife filmmaking - from broadcasters and producers, to cameramen - we encourage readers to submit their news. We also serve as an online resource for industry professionals and services. Find producers, editors, presenters and more in our Freelancer section, and find out about festivals, training and conservation in Organisations. We encourage amateur and professional freelancers to join our network and welcome all wildlife-film related organisations to join our team.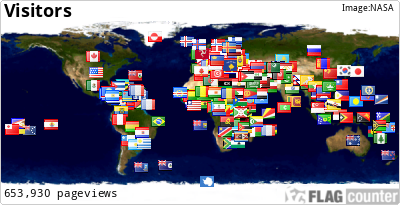 The above visitors map was added on the 30th September 2016...