Wildlife Film News (latest Natural History Film news from our acclaimed newsletter)
Become a member today... For a Freelancer join here, for an Organisation join here! :)
See our 'Features' and 'Interviews' pages for stories from around the wildlife, conservation and natural history film-making world! Got Kit to sell? Add your items here! (NB. Members post for free!) Looking for a work or got something to offer... Visit our Jobs Page.
BWPA 2017 Winners Announced!
by British Wildlife Photography Awards
6 November 2017

The British Wildlife Photography Awards proudly announce the winners for 2017.

The awards celebrate both the work of amateur and professional photographers and the beauty and diversity of British wildlife.

Winning images are chosen from thousands of entries in fifteen separate categories including a category for film and two junior categories to encourage young people to connect with nature through photography.

The Overall Winning Image, 'Heathrow Roostings' of a Pied Wagtail at Heathrow airport, is by Daniel Trim.

In winter, pied wagtails roost communally in urban areas, both for protection and for the additional warmth given off by buildings and lights. This extra degree or two can make the difference in harsh weather. Here, a single individual out of hundreds is silhouetted by the lights of Terminal 5 at Heathrow Airport.

"Living near London I'm always amazed by how nature can benefit from urban areas. There are many urban pied wagtail roosts across the UK during winter and they are incredibly important for the birds survival during these harder times, both for the additional warmth our buildings generate but also because there's safety in numbers. I waited for a cold night when their numbers swell. After about 30 minutes I hadn't seen a single wagtail, however, it wasn't long until hundreds were dropping in to the trees next to the terminal building, all calling away. It's an impressive site to see and once the initial excitement was over I spent time looking for birds I could isolate against interesting background lighting. The birds soon tuck their heads under their wing to sleep which doesn't make the silhouette as pleasing, you have to get lucky with one waking up briefly to have a look around." Daniel Trim.

"This stunning photograph perfectly captures how magical wild experiences can be, even when they're right on your doorstep. It's a great reminder that wildlife can be found in the most ordinary places, every single day. We love that a pied wagtail has as much power to inspire someone as a rare animal or dramatic landscape." Lucy McRobert, Communications Manager, The Wildlife Trusts

Tanya Steele, Chief Executive, WWF-UK comments "This latest collection of stunning photographs from the British Wildlife Photography Awards is a fabulous celebration of the wealth of biodiversity our small and densely populated island still possesses. As well as, of course, great testament to the talent, artistry, determination and commitment of the photographers who created them. WWF is therefore delighted to continue its support of this inspiring competition, raising awareness of the natural beauty and variety of life we have within and around our shores, and the on-going battle to protect it".

The winners:

URBAN WILDLIFE: Heathrow Roostings, Pied Wagtail by Daniel Trim

ANIMAL BEHAVIOUR: Crepuscular Contentment (Eurasian badger) Derbyshire, Andrew Parkinson

ANIMAL PORTRAITS: Natural Beauty (Atlantic gannet) Isle of Noss, Shetland Islands, Melvin Redeker

WILD WOODS: A Magical Morning (Silver birch) Peak District National Park, Derbyshire, Francis Taylor

HABITAT: Wren on Frost-Encrusted Fern, Dunham Massey, Cheshire, Ben Hall

HIDDEN BRITAIN: Green Hydras, Derbyshire, Alex Hyde

CLOSE TO NATURE : Wing Tips (Emerald damselflies) Broxwater, Cornwall, Ross Hoddinott

COAST AND MARINE: Emergence (Northern gannet) Bempton Cliffs, Yorkshire, Caron Steele

BLACK AND WHITE: Web of Life (Brown-lipped snail) Thetford Forest, Norfolk, Paula Cooper

BOTANICAL BRITAIN: Common Reeds Lindow Common, Wilmslow, Cheshire, Steve Palmer

DOCUMENTARY SERIES WINNER: Translocation of Red Squirrels, Scotland, Peter Cairns

BRITISH SEASONS: Great Cormorants, Holme Fen National Nature Reserve, Cambridgeshire, Ben Andrew

WINNER 12-18 YEARS: The Golden Hour Hunt (Short-eared owl) Farlington, Hampshire, Matthew Roseveare
Age 18

WINNER UNDER 12 YEARS: Puffin in a Hole (Atlantic Puffin) Skokholm Island, Pembrokeshire Wales. Oliver Teasdale
Age 10

WILDLIFE IN HD VIDEO WINNER: "Caddisfly Larva" Blackdown Hills, Somerset, Liam Marsh


Caddisfly Larva by Liam Marsh from BWPAwards

Highlights of all the Winning and Commended films of 2017:


BWPA Highlights from 2017 from BWPAwards.

Highly commended entries:

Look a Little Closer by Simon Owen
Tree Climbing Water Voles by Russell Savory
Residents of Captain's Wood by Jason Dodd
Signs of Spring with the Great Crested Grebes by Robin Lowry

Wildlife Film-maker Richard Kemp dies age 72
9th July 1945 – 5th November 2017

It is with great sadness that I have to report the death of Richard Kemp at the age of 72.

It's impossible to say the name Richard Kemp without including the words "and Julia" because Richard and Julia Kemp were a couple, partners and a team. Together they were responsible for some remarkable wildlife documentaries over a career of well over 40 years. Although the majority of these were produced for Anglia TV's "Survival" series, the BBC, Discovery and Tigress Productions all benefitted from their talents. In more recent times they also turned to producing their own DVDs including Ten Days to Paint the Forest and Artists for Nature in the Pyrenees.

Their list of productions is impressive and includes: Bears of the Russian Front, Giants of Kaziranga, Cheetahs in a Hot Spot, Missing Lynx, Night Raiders, Polar Bears: Hunters on Ice and Land of the White Fox.

His adventures took him to the high arctic among Brown bears and Grey wolves, in search of Tigers in India, Snowy Owls in Siberia, and to Kenya, Sudan, Namibia, Peru and many other remote parts of the world. I was fortunate to work with Richard in Spain in the mid 1990s on films on Genets, snakes and Iberian Lynx.

In 1992 he was the first person to film a truly wild Siberian Tiger and the first to catch on film in Spain both the Bear and the Iberian Wolf in the wild. Films produced in Southern Sudan in the 70's & 80's of the White-eared Kob migration "Mysterious Journey" and of the tribal fishermen in "The Swamp People" are to this day still the only documentation from these inaccessible locations.

He learnt to fly his own plane in order to get an aerial viewpoint on the story he was telling. This passion has now developed into a keen interest in the latest "drone" technology.

Richard won many awards for his camerawork and in 1984 was named BBC Wildlife Photographer of the Year.

He was a very keen sailor and we sadly missed having dinner together a few weeks before his death because he had to move his yacht along the south coast in preparation for winter. He had shot a deer on his farm near Whitwell and was offering a venison supper. He didn't believe in waste and was a great forager of "roadkill" on the narrow lanes around his home".

His sudden passing after a brief illness was devastating for his family and friends. Richard was a much-loved father to Malcolm and Emma and a loving and doting grandfather. My love to them and to Julia.

Mike Linley
Hairy Frog Productions

Wildscreen Festival 2018: World's most prestigious wildlife TV and film awards open for entries.

Diary dates:
Wednesday 21 March 2018 - Official submission deadline for entries to Wildscreen Panda Awards 2018
July 2018 - Wildscreen Panda Award nominations announced
Monday 15 to Friday 19 October 2018 - Wildscreen Festival – the world's biggest celebration of natural world storytelling – and the Panda Awards ceremony, takes place in Bristol, UK

The 'Green Oscars' of the international wildlife film and TV industry, the Wildscreen Panda Awards opens for entries today (Wednesday 1 November).

Wildlife and environmental filmmakers from around the world can submit their productions to be in with a chance of winning the most coveted awards in the genre when the world's biggest festival of natural world storytelling returns to Bristol, UK, from the 15-19 October 2018. Launching the Festival's latest call for entries, Lucie Muir, CEO of the charity behind the biennial event, said: "The Panda Awards have sat at the heart of the Wildscreen Festival since they were presented at the first Festival back in 1982 and they remain the highest honour in the international wildlife film and TV industry.

And we're thrilled to launch our 2018 competition on the same day when our home city, Bristol, has been announced as a UNESCO City of Film. A staggering 40 percent of all natural history productions come through Bristol and today's announcement really cements our global reputation as a world-leading centre for film."

Entries must be submitted by Wednesday 21 March 2018, via the online submission portal on the Wildscreen website, available at: www.wildscreen.org/panda-awards

For the first time this year, the charity is offering an earlybird rate for productions entered before 31 December 2017.

The Wildscreen Festival is a not-for-profit initiative by the UK-based charity Wildscreen, which is also behind Arkive, a free-to-access online encyclopaedia about the natural world, and Wildscreen Exchange, a global hub giving conservation organisations access to imagery, footage and expertise which helps them to tell the most pertinent conservation stories of our time.

Check out the Wildscreen Festival 2018 Trailer

New Wildeye Course Dates for Summer 2018!!

Our longest running course is back next year: Introduction to Wildlife Film-making – The Spring dates filled up quickly, so we've scheduled Summer dates too: 17-19 August 2018

One of of our most popular wildlife film-making courses, the introductory weekend offers you your first insight into the world of wildlife film-making. From pre-production to delivery, we'll guide you through the many stages of the process from your first idea, research, scripting, travel, filming, editing, delivering as well as importantly selling and distributing your completed film.

This course is broken down into bite-sized modules presented over two days including time spent filming at Pensthorpe, former home of BBC Springwatch. The wildlife film-making weekend is suitable for anyone including beginners, hobbyists, keen enthusiasts, those looking to undertake wildlife film-making degrees or apprenticeships all the way through to camera operators looking to diversify into wildlife film-making. As well as educating, inspiring and providing practical hands on experience its a great addition to any CV. Visit/book: www.wildeye.co.uk/introduction-to-wildlife-film-making

Check out the homepage for up-to-date availability: www.wildeye.co.uk

2017 JHWFF Festival Recordings

Did you miss a session from the Jackson Hole Wildlife Film Festival? Not to worry! They've been posted on their website!

Re-Wilding the Planet with Kris Tompkins and Greg Carr


Re-Wilding the Planet with Kris Tompkins and Greg Carr from Jackson Hole WILD

Getting Communities to Fall in Love with Their National Park


Getting Communities to Fall in Love with Their National Park from Jackson Hole WILD

Filmed at the 2017 Jackson Hole Wildlife Film Festival & Conservation Summit. For more than twenty years, 650+ media professionals have gathered in the shadows of the Tetons to celebrate excellence, exchange ideas and be inspired by the landscape and each other. An unparalleled industry gathering of broadcast and media stakeholders, writers, leading scientists and conservationists.

For more sessions, visit: www.jhfestival.org/session-recordings.html

Announcing the International BIG CATS Film Festival with CITES & JHWFF

Winners to be announced at UN Headquarters on World Wildlife Day!

The Secretariat of the Convention on International Trade in Endangered Species of Wild Fauna and Flora (CITES) and Jackson Hole Wildlife Film Festival have partnered once again! The International BIG CATS Film Festival creates compelling programming for local organizations to inspire public engagement and personal commitment through storytelling and media while it is still possible to save these majestic creatures and the habitat they range. Film entry is free, and so will be the public screenings that result! We challenge wildlife filmmakers from around the world to submit. Together, we will galvanize the power of media to inspire wonder, catalyze change and move the dial on big cat conservation. Join the fight to save Lions, Jaguars, Leopards, Tigers, Cheetahs, Snow Leopards, Clouded Leopards and Pumas!

Learn More: www.jhfestival.org/on-tour-with-the-un.html
'Getting to know an octopus' by Craig Foster

I grew up in a small wooden bungalow on the Atlantic Ocean at the tip of Africa and when I was 3 years old, I started swimming in the kelp forest. This sea forest is my other home. It's where I feel safest on Earth - a place of awe and wonder, away from the suburban abyss.

After spending many years filming with San-Bushmen master trackers in the Kalahari desert of Botswana I returned to my kelp forest home and began a protocol of diving every day for a period of years - without a wetsuit. I wanted to see if my body could adapt to the cold Atlantic water and I wanted to learn to track animals underwater. In the first few years my body slowly adapted to the cold, but the tracking seemed impossible until I started watching octopuses. I began to recognise their tracks and the signs they left when they hunted and devoured prey and even more intriguing I began to see remarkable interactions with their predators – the various cat sharks that hunt the forest.

I showed some footage I had filmed to my great friend Roger Horrocks who was looking for stories for the new Blue Planet series. He was blown away by the intimate behaviours I was witnessing and later that year we began filming together, Roger shooting, as I tracked the octopus. More here: bbc.co.uk


The octopus shell suit – This cunning octopus creates a protective suit of shells to hide in plain sight.

Also read here: 'Filming the octopus Houdini in South Africa' by Kathryn Jeffs, Producer for Green Seas. "One of my favourite animals in the film has to be our little female common octopus who turned out to be a genius in the art of escape… Just as well, as she lives in an undersea kelp forest that is just packed with predators."
'Creating an underwater soundscape' by James Honeyborne, Executive Producer of Blue Planet II

Natural sound is an important part of any wildlife doc. It helps create atmosphere and a sense of place. But for the Blue Planet II sound team, the challenges of portraying natural underwater soundscapes are many. Contrary to Cousteau's notion of 'the silent world', the oceans are alive with sound. Much of it is the natural sounds of fish, mammals and smaller creatures going about their business. That can sound wonderful - if you're in the vicinity of a singing humpback whale - but on a busy coral reef city, the busy sounds can produce a busy background noise of grunts, bumps and clicks that isn't always that pleasant to listen to. Sound travels far and fast underwater – and that includes the noise of human activity. When we looked into recording sound at the bottom of the Mariana Trench for example, scientists told us that sound pollution from ship traffic can even reach all the way down there.

The most important component of the soundtrack is the natural sounds available – those that the cameras and professional sound recordists have captured. The Blue Planet II team have gone to great lengths to take recordings from all sorts of sea creatures and have worked with scientists to reveal the dawn chorus of fish on a coral reef, for example. If you can tune into the right frequency, some fish, it turns out, sing. There's a sequence about this with Dr Steve Simpson in the final episode. We don't play the relentless soundtrack of the cameraman breathing - that would be like watching TV whilst sitting next to Darth Vader. So to create an immersive and enjoyable experience, underwater filmmakers have no choice but to re-create a suitable soundscape in post-production, once the film has been edited.

My favourite sequence for its soundtrack is when we dive with a sperm whale mother, who is communicating with her baby, before using her sonar to hunt... More here: bbc.co.uk
Seeking Sanctuary: A New SOSF Short Film By Nick Jones

SOSF collaborator, Nick Jones has spent more than 1000 hours underwater filming various types of marine wildlife from humpback whales to great white sharks. His work has been featured by Lonely Planet, Wanderlust and the BBC. This past year, as part of his Masters in Wildlife Filmmaking at the University of West England, Nick partnered up with SOSF to create a short documentary about sharks, and the other wildlife present on D'Arros Island and St. Joseph Atoll — an unprotected area in the Seychelles with high amounts of biodiversity. The end result of this effort is Seeking Sanctuary, a 10 minute film which captures the importance of these areas to sharks.

The Seychelles is a unique country made up of a constellation of islands 1500 km off the eastern coast of Africa. As demonstrated in Nick's short film, Seychelles hosts an abundant variety of marine species. Still, aside from the work being conducted by SOSF D'Arros Research Centre (DRC), marine fish and sharks are not a large focus for studies in this country. Nick hopes his new film will highlight the significance of D'Arros and St. Joseph to a wider audience. Hopefully, these richly populated locations will be granted marine protected area status in the future.


Seeking Sanctuary from nickbjones

More, incl' a Q&A with Nick: saveourseas.com/seeking-sanctuary-a-new-sosf-short-film-by-nick-jones
Welcome November's New Full Member!

Axel Drioli - A freelance Immersive Audio Producer Axel has been exploring this audio field for quite a while. His focus is on Immersive Storytelling/Documentaries and how to integrate Spatial Sound to make immersive experiences convincing and emotional. His goal is to make people aware of people, wildlife and nature using immersive sound. Visit: www.axeldrioli.com

Join him, become a full member here: Wildlife-film.com/freelancers or Wildlife-film.com/companies




See the updated ViewFinders listings!

Over thirty years we have had several thousand separate crews from forty countries, resulting in one thousand three hundred and fifty finished films or series - and rising by the day.

Founded by Jean Hartley and the legendary Alan Root, the directors include ornithologist extraordinaire Leon Bennun, photographer, anthropologist and film maker Mia Collis and wildlife manager and guide Sajid Darr.

Operating in Kenya, with associated colleagues in neighbouring countries, we facilitate for natural history and documentary film crews from all over the world.

Our service includes the 'normal' fixer things - obtaining all permits, licences and permissions, as well as arranging temporary importation of equipment, transport, hotel/lodge or private camp accommodation, internal flights and air charters, aerial filming, etc. We go the extra mile - logistical challenges are our speciality - nothing is impossible and we never take 'no' for an answer.

"We are apparently credited with having invented 'fixing' as a profession, though whether that can be verified we are not sure." Jean Hartley

See: wildlife-film.com/-/ViewFinders & visit: viewfindersltd.com
See 'Kit For Sale' for items from members/subscribers!
Welcome to Wildlife-film.com
Since the late 1990s Wildlife-film.com has been the leading source of information for the wildlife filmmaking industry worldwide. For over fifteen years the site has been Google's number one ranking site for 'wildlife film' and related searches. Our site is viewed in over 175 countries. Our newsletter, Wildlife Film News, is read every month by thousands of people involved in wildlife filmmaking - from broadcasters and producers, to cameramen - we encourage readers to submit their news. We also serve as an online resource for industry professionals and services. Find producers, editors, presenters and more in our Freelancer section, and find out about festivals, training and conservation in Organisations. We encourage amateur and professional freelancers to join our network and welcome all wildlife-film related organisations to join our team.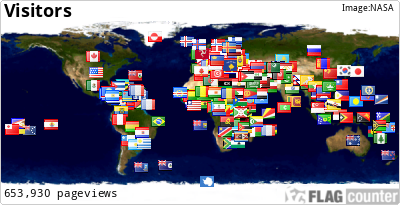 The above visitors map was added on the 30th September 2016...